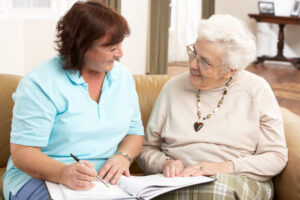 By Jeannie Finnegan, CDP, Elder Care & Dementia Care Consultant for Stanton Aging Solutions
Navigating the world of home care can be difficult, especially when you're unsure of what your loved one may need or what you can afford, and what may be most beneficial for the highest quality of life.
What Is Companion Care?
Oftentimes, companion care (meaning non-medical home care) can help meet the needs of older adults and those with disabilities. Providers of companion care offer emotional support and socialization, and they may also assist clients with tasks such as meal preparation, transportation to appointments, keeping the home tidy, doing laundry, running errands, making the bed, and giving medication reminders. Perhaps the most important service offered by non-medical home care agencies is the companionship — reducing isolation, going on walks with your loved one, reading to them, and helping them engage with their environment and interests.
Home care agencies typically require a minimum of four hours per day for companion caregivers, at a cost of approximately $20 to $40 per hour, depending on the hours needed. Per-day costs or live-in care can range from $120 to $200 per day.
Individual caregiver credentials may vary a bit, but agencies typically require a high school diploma or GED, having reliable transportation, and possibly some experience working with the elderly. Many agencies offer on-the-job training for their caregivers, may provide some formal training, and some require CPR certification. Home health aides have additional training and can provide companionship, as well as assisting with personal care and activities of daily living, such as bathing, dressing, grooming, and toileting.
What Is Concierge Connection Care?
Companion care certainly plays an important role in home care, or as supplemental care for a loved one living in a senior community. We have several wonderful home care agencies we recommend when coordinating care for our clients.
However, many of our clients at Allyson Stanton Aging Solutions benefit tremendously from a higher level of cognitive engagement, specialized Alzheimer's and dementia care, meaningful pursuits, and non-pharmaceutical therapeutic strategies. That's when it may be extremely beneficial to utilize our Concierge Connection Care (CCC) services.
Our CCC specialists are Certified Dementia Practitioners with extensive expertise and experience in Alzheimer's and dementia care, along with cognitive stimulation, therapeutic interventions, and real-life purposeful activities. Because different kinds of dementia and neurocognitive disorders can vary in their symptoms, progression, treatment, and approach to care, we believe that providing specialized dementia care, therapeutic strategies, and enhanced connection make a world of difference to our clients and their families.
Our CCC professionals are educated, compassionate, articulate, highly trained, highly skilled, and focus on the dignity of each and every person. We emphasize an individualized and positive, relationship-centered approach.
We start with a holistic assessment of each client, their life story, their interests then and now, and tap into what we can learn about our clients to develop a care plan that will provide the greatest cognitive engagement, purpose, and quality of life.
Concierge Connection Care can include:
Cognitive enhancement visits (brain and memory games, sorting activities, reading/writing activities and more)
Therapeutic, personally meaningful music
Reminiscence therapy and writing a life story
Sensory stimulation, including hand massage and aromatherapy
Artful expressions, including sketching, painting, collage, crafts
Specialized dementia care visits that include enhancing communication, establishing routines, managing challenging behaviors, creating connection
Social and spiritual engagement visits that include meaningful outings and spiritual pursuits (attend religious services, religious music, picnics, virtual and in-person museum visits, and more)
Home sorting and organizing projects
Light exercise
Healthy meal preparation/grocery shopping/eating out
Attend physician appointments with clients
Would your loved one benefit from any of our CCC services? Click here to read more about us and the difference CCC could make in your loved one's life http://stantonagingsolutions.com/concierge-connection-care/. We would love to speak with you about the care needs for you or your loved one and how we might be able to help. Please reach out to us at help@stantonagingsolutions.com or call us at (443) 812-1028.