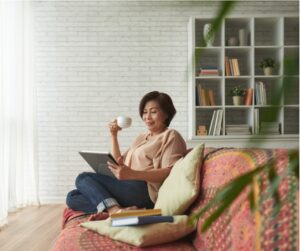 By Jeannie Finnegan, CDP, Elder Care & Dementia Care Specialist at Stanton Aging Solutions
Now that 2022 has come to a close, it's a good time to reflect on the year that has passed all too quickly (or perhaps for some, it seemed to drag on forever…) and think about what worked, what didn't, and what needs to change in the year ahead. Perhaps you're completely worn out with caregiving and realize you need some outside help. Maybe you have neglected yourself amid all the demands of caregiving. Or are you a "sandwich" caregiver, still caring for children at home while also caring for a parent and wondering how you can do it all in the year ahead?
Caregiver stress is real and not to be taken lightly. It can impact every area of life, and if it seems there is no end in sight for your caregiving tasks, we get it. No matter what your challenges are, at Stanton Aging Solutions, we want you to know that we understand caregivers' unique needs and the demands that can be overwhelming at times. Think about the following to "check in" with yourself and see if you have any of the symptoms of caregiver stress:
Denial: "Mom will get better if I just help her enough." Not accepting our loved one's decline or their progressive, chronic, or terminal illness.
Anger: "If only mom would try harder!" Often, caregivers can be angry and frustrated over a loved one's continuing decline. Sometimes the caregiver will even turn the anger inwards on themselves, as if they have somehow failed.
Social withdrawal: Caregiving responsibilities can take precedence over spending time with others or engaging in activities we once enjoyed.
Anxiety about the future: "What if mom's care becomes more than I can handle?" or "What if we can't afford to get mom the help she needs?" Financial burdens can add greatly to caregiver stress.
Depression and feelings of helplessness: Caregiver stress can cause feelings of hopelessness and even thoughts of death or suicide.
Exhaustion: "I can't do this anymore." The demands of caregiving can feel overwhelming and draining — physically, mentally, and emotionally.
Sleep loss: "What if mom falls or leaves the house when I'm not there?" Long lists of worries and concerns can rob caregivers of sleep.
Irritability: Physical and emotional exhaustion can lead to a short temper, moodiness, and negative emotions.
Difficulty concentrating: The demands of caregiving can make it difficult to remember one's own appointments and deadlines, and those demands can interfere with daily life.
Self-medicating/unhealthy coping mechanisms: Using alcohol, drugs, smoking, or excessive eating to cope with stress.
Health problems: Stress, emotions, and lack of sleep can take a physical and mental toll on caregivers.
Here are some suggestions for what might help going forward into 2023:
Learn to recognize the symptoms of caregiver stress.
Consider enlisting a geriatric care manager to help navigate your caregiving journey and put resources and support in place. This could include in-home assistance, visiting nurses, meal delivery, an adult day program, or a respite stay for your loved one. At Stanton Aging Solutions, we are your partner in care and can coordinate the resources you need.
If you feel overwhelmed, seek support from family, friends, and other caregivers. Tell them what they can do to help. If you are struggling with depression or hopelessness, reach out to your primary care doctor or a mental health provider. Depression and anxiety are treatable.
Educate yourself. At Stanton Aging Solutions, we offer caregiver support and coaching, as well as specialized training if you are caring for a loved one with dementia.
If you are worried about finances, we can help you determine a budget for current and expected future care needs. We can also refer you to experienced financial managers.
Reach out to your faith community, spend time in prayer or meditation, and practice mindfulness and gratitude. Look for and treasure even small moments of joy and connection in the midst of your caregiving.
Practice self-care and pay attention to your own well-being. It is not selfish to take care of yourself, so do not let guilt creep in. You will not be an effective caregiver if you are completely depleted or in poor health. Make nutrition a priority, get regular primary care check-ups, and schedule appropriate screenings. Exercise for at least 20 minutes each day. Listen to music you love. Get plenty of rest, including naps and downtime.
Set boundaries around your caregiving and know your own limits.
Commit to spending at least 30 minutes a week with friends and family and participating in activities you truly enjoy.
We're here for you and are happy to speak with you about your or your loved one's care needs. Please call us at (443) 812-1028 for a 15-minute phone consultation at no charge. Or use our contact form here. You don't have to go it alone.